Woodford Heating & Energy
Website design and development
---
Woodford Heating & Energy deliver specialist building services to the London construction market. They work on high profile building projects covering both commercial and residential sectors.
We were asked to redesign Woodford Heating & Energy's website to show off their portfolio of completed projects and to increase signups to their e-newsletter via a mobile-friendly responsive website.
Research
The first stage of the project was to spend time with the Woodford management team gaining an in-depth understanding of the range of building services that the company offers and assessing the best way to showcase these services through a series of easy to read case studies.
It soon became clear that the company had an excellent range of well documented case studies and this was pivotal in influencing our decision to produce a clean and understated website design in order to let the photography shine through.
During our initial research we learned that the average Woodford website visitor would be a project manager or specifier who would typically be short on time and therefore not want to wade through large amounts of text or technical data. This would later feed into our design considerations with an emphasis on the visual design being "content-rich for the time-poor".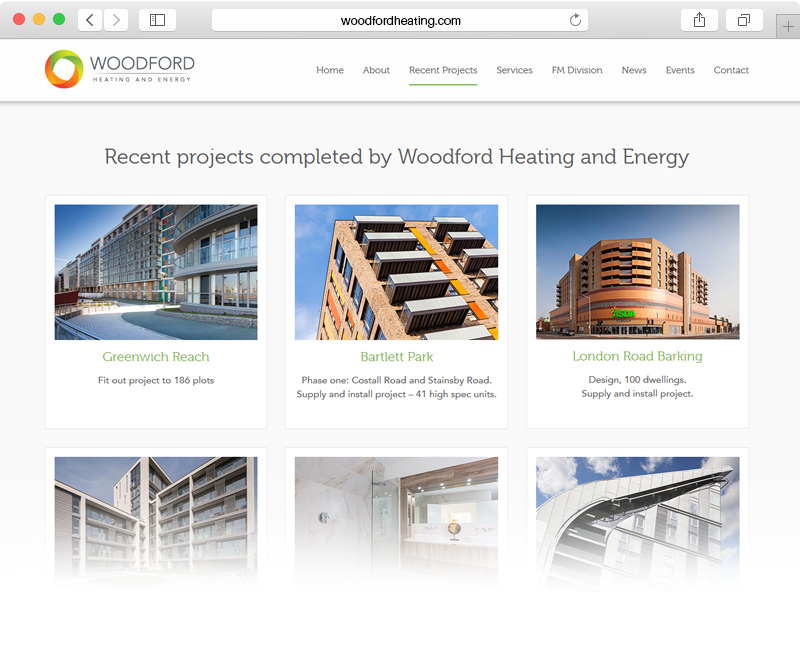 Design
The client wanted to retain their existing corporate branding on the new website. We were asked to incorporate the company's existing logo and colour scheme into a new website design that would slot in seamlessly with the rest of the company's marketing collateral.
Our colour choices for text, titles and navigation elements were influenced directly from the Woodford Heating logo itself in order to provide an immediate association between the pre-existing brand elements and the new website design.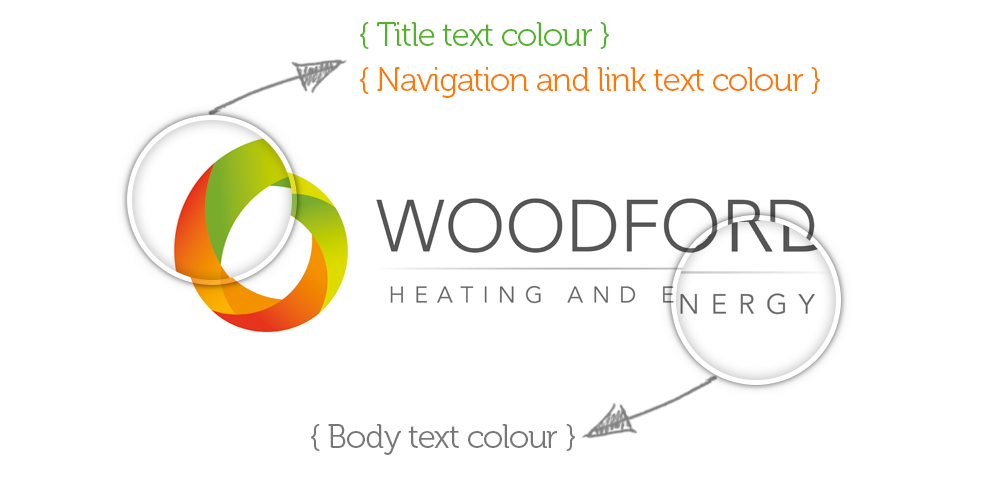 ---
Real-time statistics
Woodford Heating has an exceptional health and safety record and a proven track record for delivering projects on time. The client was naturally keen to share their impressive statistics on the website but was aware that the figures needed to be kept up-to-date and asked us to come up with a way for non-techical members of staff to update this area of the website.
Our solution was to build a bespoke module for the Joomla content management system (CMS) that powers the website. With a simple and intuitive user interface, the module allows members of staff to simply login to the administration area of the website and update the company's statistics in real-time.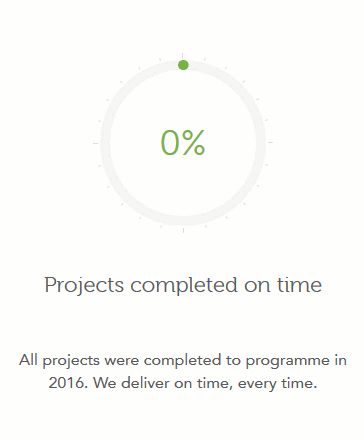 ---
Social sharing
Like a lot of companies, Woodford Heating were aware that they lacked the resources to spend on dedicated social media management. However, we were able to leverage the benefits of social media with no additional involvement required from the client by providing the ability for website visitors to share projects via their own social media accounts.
Send to a Friend
We also developed a "Send to a Friend" feature which allowed website visitors to email their friends and colleagues with a link to a specific project. Check out the short video to see this feature in action.
Huge congratulations for the web site which looks absolutely fantastic.